SOLD BMW E39 Stunning/RARE Birdseye Zebrawood Complete Interior Trim Set - SALE, no Core Charge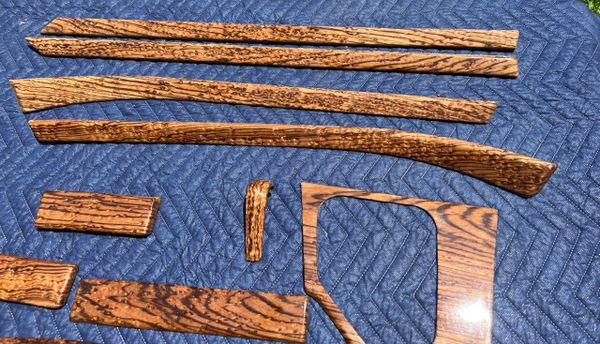 Description
This is a complete set of BMW E39 5 Series (1997-2003) Interior Trim refinished using a very RARE Birdseye Zebrawood, 100% real wood veneer.  This veneer is absolutely beautiful in my opinion - I only have enough for several more sets and don't know if I can get more.  The set includes all 11 pieces of interior trim including Front and Rear Doors, Left, Center Left and Right Dash Pieces, Radio Cover, Console, Ash Tray cover, and Automatic Shift knob.

This set will fit all E39 cars that are LHD, including all engine sizes, Sedans, and Wagons.  It will not fit M5's with the component on the Left Center Dash piece.
You will need to pay $35 for insurance and shipping in the US.  Please contact me before you buy for International Shipping Estimates.
WAIVED!!!!  Core charge - the price includes a $100 core charge which will be refunded to you if I receive back an 11 piece set of trim within 30 days.
Returns - I will accept returns if you contact me within Seven Days of first receiving your trim set (per the package tracking) and then return the trim in the same condition as mailed.
You will be responsible for reassembly.
Please read this carefully!!
These are original BMW trim pieces that have been (1) STRIPPED, (2) RE-VENEERED with real wood, (3) SEALED in a polyester top coat, and (4) POLISHED to a mirror finish.
All of this is done by hand, by me, and will contain (5) IMPERFECTIONS.
Stripped - I start with original BMW trim pieces, then sand through the considerable varnish and through the engineered wood "burl" initially applied by BMW.  Originally these were created with with a press and molds and were made by the thousands.  A machine process like this can result in blemish free products.
Veneer - I use real wood veneer, typically exotic wood, that comes to me about .5mm thick.  It's real wood that splits, splinters, and cracks.  It definitely does NOT want to be in the same shapes that car trim comes in.  
Sealer - I use a product called SOLAREZ.  It's a fairly new polyester resin that is extremely hard yet still has some elastic properties.  Initially used in high dollar custom surf boards, it's an amazing top coat that polishes to a mirror, won't yellow with heat and light, and resists cracking.
Polish - I do this all by hand, working with wet sand grades up to 3000.  Only then do I break out the buffer and polish with a final stage paste.
Imperfections.  I'll tell you this right now - if you are person that demands perfection, my products are NOT for you.  I'm not making any judgements here - I'm just saying.  I work as hard as I can to make incredible looking trim, but I'm a craftsman, not an artisan.  A craftsman charges what I charge, an artisan charges FIVE times that much.  It's how much perfection costs.  There are plenty of pictures and videos of my trim sets - look at them to make sure you really see what you will be getting.
Custom Set Requests - I don't do specific custom work.  If you'll let me know what you want, I will consider making the set and you can buy it if you want to.
Wait list - if you'd like to be placed on a wait list, you'll need to pay a 25% deposit - please contact me.
Reviews